Click Here to Listen to this Podcast
Podcast: Play in new window
| Download
(And How to Attract Better Ones)
Welcome to Season 8, Episode 13 of the This Is Your Life podcast. In this episode, Michele Cushatt and I discuss what to do with difficult clients.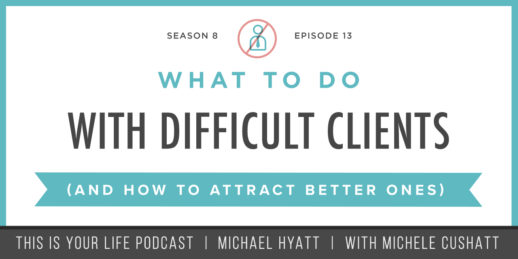 If you've ever been in a service-oriented business, you have likely dealt with the "high maintenance client." This is the person who has unreasonable expectations and is often demanding, unrelenting, and never satisfied regardless of how hard you work to meet their expectations. In today's podcast, I give you practical advice on how to handle these situations.
Listen to the Audio
MICHAEL HYATT WITH MICHELE CUSHATT


TIYL_S08_EP_13_092616
Subscribe to Podcast in iTunes | Play in Browser | Download
Click here for more. Better yet, subscribe via email and you'll never miss a new post or any related news. It's fast and convenient.